Dust Collection, Fume Extraction, Filtration Systems, Consultancy, LEV Testing & Filter Bags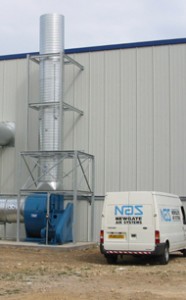 At Newgate Air Systems UK Ltd, we are committed to providing each customer with a bespoke, functional and efficient dust or fume extraction solution. This is demonstrated by our determination to become a one stop shop, delivering every filtration need. We have an extensive knowledge of all aspects of dust and fume extraction and control, and our expertise allows us to fulfil most customer requirements. Not only do we consult, design, manufacture, install and maintain high quality dust and fume extraction and control systems, we also stock a wide range of filters, gauges and cartridges for all types of extraction equipment.
We are one of the few companies who offer a first class consultancy service, and have frequent success with identification and troubleshooting of problem areas. Our specialists have the advantage of excellent training and a wealth of experience in all dust and fume extraction issues.
We pride ourselves on supplying some of the most revolutionary, efficient and cost effective technology available on the market today, and are happy to tackle any problem presented to us. Seemingly insurmountable difficulties have been solved using a system of consultancy, investigation and design strategies. A made to measure service from Newgate Air Systems, includes extremely accurate measurements and calculations, enabling exceptional functionality and HSE compliance.
We can carry out thorough Local Exhaust Ventilation [LEV] tests to ensure that any equipment is working safely and effectively. This is a legal requirement for any employer who utilises this machinery. Testing involves examination of equipment including filters, ducts and hoods. The system is also checked for technical performance and effectiveness is assessed. In the event that your system is not up to the required standards we can make the appropriate recommendations.
Filters are one of the most important aspects within any dust and fume extraction system, and inadequately functioning filters will have a significant overall impact on performance. Periodic servicing of your unit will expose this kind of irregularity and indicate whether filters need to be replaced or not. Newgate Air Systems, stock an impressive range of filters from some of the biggest names in the industry, at highly competitive prices.
To arrange your FREE site survey call Newgate Air Systems on 0191 262 3015
Vast Range of High Quality Filter Bags from Major Manufacturers, Dust & Fume Extraction & Control