Newgate Air Systems are specialists in the extraction of harmful gases, fumes and dust particles from the working environment. Many industrial and laboratory processes generate toxic fumes and pollutants which must be safely extracted, filtered or collected to comply with health & safety regulations. Fumes and dust can contaminate other areas of manufacturing, damage electrical systems or be highly flammable or explosive.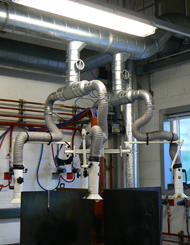 Newgate Air Systems work throughout the UK and in Europe with clients in all the major manufacturing, chemical and pharmaceutical industries. We work closely with smaller factories, garages and manufacturers, especially in and around Newcastle and the North East of England.
On our travels we see many dust and fume extraction systems which either fail to meet the H&S requirements or do so at an unnecessarily high cost due to incorrect specification and design. At the extreme end, we occasionally come across smaller manufacturers, especially vehicle repair centres and fabrication plants where the idea of ventilation and fume extraction is to open a window,
In some instances, open door vehicle inspection bays may allow for adequate ventilation during the summer months. During the winter, when temperatures drop, these doors and windows are often closed to keep the warmth in, along with harmful exhaust gases and welding fumes.
All fumes, gases and pollutants can be disastrous to health. The symptoms of breathing in diesel fumes include eye, nose, throat and lung irritation. There can be feelings of dizziness, drowsiness, high blood pressure, nausea and headache. Other symptoms are kidney damage and reduced ability of blood clotting. With other solvents and gases the signs to look out for include burns around the mouth and nostrils, a hoarse voice, wheezing, drooling, noisy breathing, confusion or disorientation.
For more information on the symptoms of toxic fumes and gases – or for expert advice on the extraction and collection of fumes and gases – visit www.newgateair.co.uk.