Newgate Air Systems have recently added two new examples of innovation and design in dust and fume extraction installations on the Case Studies pages of our website.
The extraction of fumes, gases and dust particles is a key component for creating safe and healthy working conditions while reducing pollution and contamination. It has to be said that some fume and dust extraction projects are more complex than others but as our clients know, Newgate Air Systems rises to the challenge.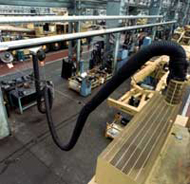 Extracting fumes from a steel profile burning process. In this instance, Newgate Air Systems was required to create a fume extraction system that captures fumes from a travelling burning torch as moves across 80m2 burning table. Newgate Air Systems solved the problem by developing a matrix of fume hoods across the table with a series of dampers and limit switches to direct the extraction to the immediate cutting zone. We then installed a lip extraction duct along the length of the table that is then connected to the burner head carriage.
This process is similar to the movable fume extraction systems we have used for vehicle exhaust fumes in the manufacture of heavy machinery.
Malting Plant Dust Extraction System. One of the potentially dangerous elements in the distillery process is the accumulation of explosive grain dust. Newgate Air Systems was recently required to design and install a dust extraction system that covers multiple product conveyors and the five germination units that feed into a single processing system. In total this required an 18 point extraction system, a dust collection unit including storage hopper, and a main extract fan assembly complete with acoustic enclosure for noise reduction. Though we say it ourselves, it works like a dream and we are now in discussion with the client to design a similar dust extraction system for one of their larger facilities.
For further information on Newgate Air System projects, visit the website at www.newgateair.co.uk or contact us on 0191 262 3015.